It was a return to some sense of normalcy.  The NFL Draft was once again held in front of fans, this time in the city of Cleveland, and what a success it was.  The largest event held since the pandemic began, fans poured in to see how their teams will improve themselves as they all look for a run for the Super Bowl.  This year marked the most accurate Mock we've ever had, getting 11/32 picks correct with players going to their accurate team.
But now it's no longer about the fun of creating Mock Drafts.  It's about evaluating who we felt won the draft, who lost the draft, and talking about why players went where they went and how they fit.  It's also about evaluating who will be on our radar for the 2022 NFL Draft as last year, 4 of our 5 Top Players ended up going in the Top 10 picks.  So with that said, here's our NFL Draft recap.
The Prospects Who Fell
LB Jeremiah Owusu-Koramoah Notre Dame (2nd Round- Cleveland Browns)
JOK was a clear-cut first Round pick.  His talent as not just a Linebacker with a nose for the ball, but also as an athletic playmaker who can cover WRs like Devonta Smith makes him a unique talent.  So why did he slip?  Is it because he has no true position at the next level?  Could teams be scared of him after watching a similar player like Isaiah Simmons not produce as a Top 10 player?  While reports have now discovered that JOK has a heart issue, he was still cleared by doctors, and doesn't look like it's too much of a concern.  To fall in the back half of Round 2 is still unfathomable to think, but he landed in a perfect situation for him.
CB Shaun Wade Ohio State (5th Round- Baltimore Ravens)
A first-round lock had he have come out for the NFL Draft a year ago, Shaun Wade had as bad of a year you could've had for a Cornerback last year.  He was asked to be an outside corner and couldn't handle the best receivers on each team.  This made him projectable as an inside slot corner, which hurt his value.  Could it be that his injuries affected him from play at a high level?  Possibly, but he should've gone in the draft last year.  At least he goes to a great fit for him where the Ravens constantly develop great DBs.  No matter what he's in a spot where he can develop and thrive.
LB Cameron McGrone Michigan (5th Round- New England Patriots)
McGrone is an athletic linebacker who produced at Michigan.  He filled in the role left by Devin Bush and did very well.  In fact, he was a third/fourth-round talent for me.  He has great speed from sideline to sideline and is a good tackler.  Sure there are coverage question marks, but there's no way he should've fallen to the fifth round.  In a place like New England, he could sneak his way onto the roster and be a contributor right away with his talents in that defense.
OG Trey Smith Tennessee (6th Round- Kansas City Chiefs)
Trey Smith originally was a highly recruited prospect who was considered one of the top future OT prospects. He then moved to Guard and looked like a solid Guard prospect with power and pure talent to work with. The problem? He's battled blood clots in his lungs. Obviously with these concerns he's going to fall. Well for the Chiefs, they landed a developmental Guard who they can sit behind their great O-Line.
DT Marvin Wilson Florida State (UDFA- Cleveland Browns)
Once upon a time, Marvin Wilson was mocked as a first-round pick to the Browns after the 2020 Draft.  But after him standing up for his team against Mike Norvell during the Black Lives Matter movement last summer and a drop off in production, teams were scared away having more questions than answers.  The tape shows an explosive DT who can disrupt the backfield.  He should've been drafted to begin with, but for the Browns, they add a talented DT where Wilson has a chance to compete to make the roster.  Hopefully, for his sake, he comes in with a chip on his shoulder to prove teams made a mistake.
Top 5 Player Fits
OT Rashawn Slater/CB Asante Samuel Jr. (1st/2nd Round pick, Los Angeles Chargers)
I'm going to cheat here and pick 2 players for one team.  For the Chargers, they needed a Franchise LT to protect Justin Herbert and also depth in a secondary that faces Pat Mahomes twice a year.  Rashawn Slater was considered by some as the top LT in the draft and has dominated the links of Chase Young at Northwestern.  He is exactly the blocker Justin Herbert will love to have to block him for the next decade.  Asante Samuel Jr. has the bloodline and success at Florida State that should translate to the next level.  Ignore that he's undersized, he brings a shutdown CB mentality to the room and the work ethic to thrive and add a major piece for the Chargers secondary.
CB Greg Newsome/LB Jeremiah Owusu-Koramoah (1st/2nd Round pick, Cleveland Browns)
Excuse me for cheating a second time, but the Browns' first two picks fit exactly everything the Browns were looking for.  The Browns needed a true CB2 to play opposite Denzel Ward and offer similar production and that's what Newsome can bring.  This allows them to ease Greedy Williams back in and play Troy Hill as his effective slot position.  JOK was a dream in the 2nd Round for the Browns.  In Joe Woods' scheme, he needed athleticism and versatile players he lacked in 2020.  JOK is a playmaking defender.  Woods has had that everywhere he's been successful and will know how to get everything out of JOK.  For Newsome and JOK, they go to dream fits for the both of them.
WR Rashod Bateman (1st Round, Baltimore Ravens)
The Ravens entered the Draft needing to find a reliable outside receiver and boy did they luck out in getting one. While the Ravens have a great deep threat in Hollywood Brown, but Bateman looks to be the reliable route runner with good hands that can be an impact receiver for the Ravens from Day One. Adding Bateman now gives Lamar Jackson all the weapons he can ask for outside of acquiring a proven WR. The time for Lamar Jackson to silence any last doubters about his passing ability is now.
DT Christian Barmore (2nd Round, New England Patriots)
Barmore came into this draft with a major red flag about being able to be coached up.  Well, now he goes to the one place where if he can't work with Bill Belichick after coming from Alabama and Nick Saban, he will never reach his potential.  Barmore is a disruptive force in the middle that has been lacking in Belichick's defense for years.  If he can get through to him, because of his relationship with Nick Saban getting advice on how to reach him, Barmore could end up being a nightmare for opposing Offenses going forward.
RB Trey Sermon (3rd Round, San Francisco 49ers)
I know what you're thinking, a 3rd Round RB with a great fit, how can that be?  Well, this is a Kyle Shanahan offense we're talking about who relies on running backs with great vision and explosiveness and that is Trey Sermon.  After a solid start at OU, he transferred to OSU for 2020 and after a slow start, he finished with a fury.  He showed explosiveness and the ability to carry a team on his back.  For the 49ers who have lacked that kind of a back, pairing him with Trey Lance could help transform the entire 49ers Offense.
Top 3 Drafts
Minnesota Vikings (Need OL, DL, QB)
R1 (23): T Christian Darrishaw, Virginia Tech
R3 (66): QB Kellen Mond, Texas A&M
R3 (78): LB Chazz Surratt, North Carolina
R3 (86): G Wyatt Davis Ohio State
R3 (90): EDGE Patrick Jones II, Pittsburgh
R4 (119): RB Kene Nwangwu, Iowa State
R4 (125): CB Camryn Bynum, California
R4 (134): EDGE Jamarius Robinson, Florida State
R5 (157) WR Ihmir Smith-Marsette, Iowa
R5 (168): TE Zach Davidson, Central Missouri
R6 (199): EDGE Jaylen Twyman, Pittsburgh
The Vikings for years have had O-Line troubles and at #14 could've taken Christian Darrishaw and nobody would've complained.  But they traded down acquiring more picks and still got Darrishaw, that's a home run to start off the draft.  To add later on an extremely high value in Wyatt Davis in the middle of Round 3 that if healthy, Davis is a 1st Round talent.  They added a bunch of great depth pieces to develop and on top of it all drafted Kellen Mond to sit behind Kirk Cousins and learn.  He has the talent to start but needs time to develop and this is a perfect fit.  The real steal could be Zach Davidson who grades very high athletically and if they can develop him, they can have 2 athletic TEs give defenses headaches.
Denver Broncos (Need QB, CB, OL)
R1 (9): CB Patrick Surtain II, Alabama
R2 (35): RB Javonte Williams, North Carolina
R3 (98): iOL Quinn Meinerz, Wisconsin-Whitewater
R3 (105): LB Baron Browning, Ohio State
R5 (152): S Caden Sterns, Texas
R5 (164): S Jamar Johnson, Indiana
R6 (219): WR Seth Williams, Auburn
R7 (237): CB Kary Vincent Jr., LSU
R7 (239): EDGE Jonathan Cooper, Ohio State
R7 (253): EDGE Marquiss Spencer, Mississippi State
If the Broncos have a QB, they're a legitimate threat in the AFC. The Broncos in George Paton's first draft at the helm absolutely knocked it out of the park. Forget the fact that the Broncos had Justin Fields on the board at #9, they drafted arguably the top CB in the draft in Patrick Surtain to solidify an outstanding secondary. Javonte Williams to some is considered the best back in the draft. Quinn Meinerz tested extremely well and looks to be a high upside interior lineman. The values of the rest of their picks are outstanding across the board. They're just missing one piece…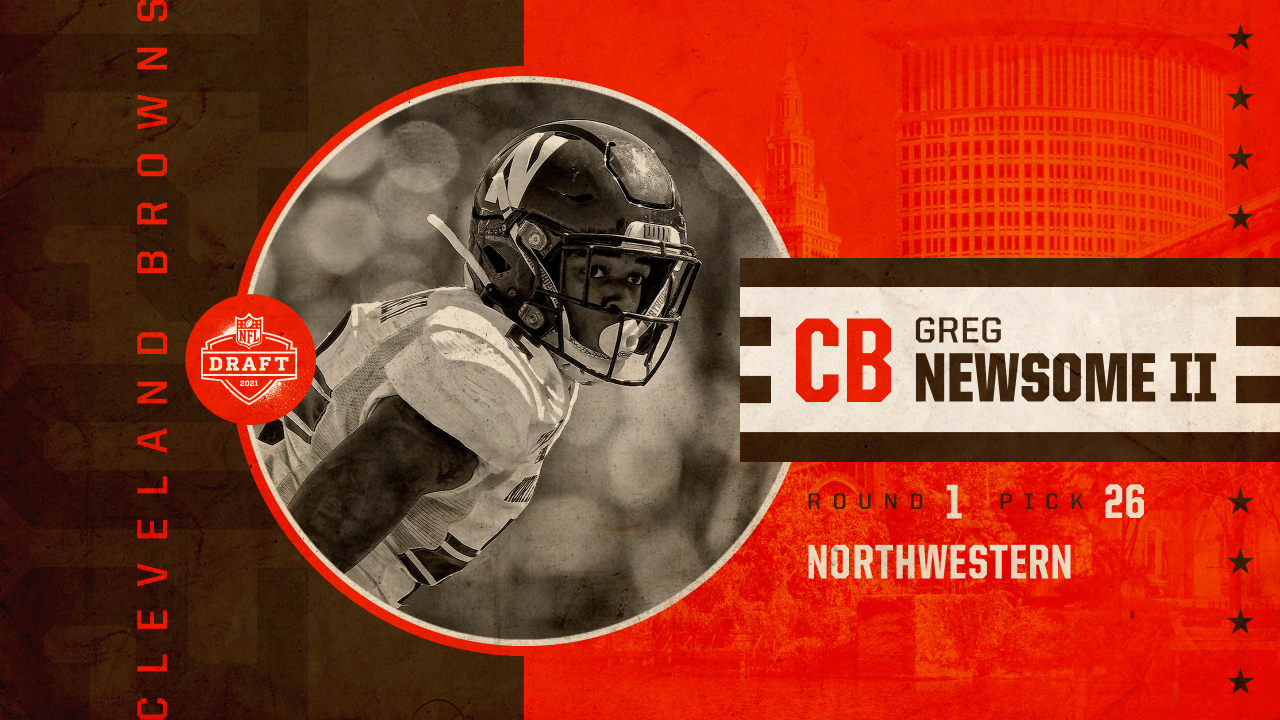 Cleveland Browns (Need CB, DT, LB)
R1 (26): CB Greg Newsome II, Northwestern
R2 (52): LB Jeremiah Owusu-Koramoah, Notre Dame
R3 (91): WR Anthony Schwartz, Auburn
R4 (110): OT James Hudson, Cincinnati
R4 (132): DT Tommy Togiai, Ohio State
R5 (153): LB Tony Fields II, West Virginia
R5 (169): S Richard LeCounte, Georgia
R6 (211): RB Demetric Felton, UCLA
The hosts of the NFL Draft were winners of the 2020 NFL Draft and the "Nerds" of Kevin Stefanski, Paul DePodesta, and Andrew Berry struck gold once again.  How Greg Newsome fell to #26 is beyond me.  Sure he has limited tape, but the tape is great and he tested well, he's a great CB2 opposite Denzel Ward.  JOK is a perfect fit in Cleveland who there's no idea why he fell in the 2nd Round.  Anthony Schwartz fits what the Browns need at WR.  Their Day 3 picks were all value picks, no reaches and the Browns filled every need on their roster.  Andrew Berry and co. did it again and the Browns are built to not just compete for the AFC North crown, but more importantly built to dethrone the Chiefs in the AFC.
Honorable Mention: Chicago Bears, Detroit Lions, Washington Football Team
Worst 3 Drafts
Green Bay Packers (Need WR, OL, CB)
R1 (29): CB Eric Stokes, Ohio State
R2 (62): C Josh Myers, Ohio State
R3 (85): WR Amari Rodgers, Clemson
R4 (142): T Royce Newman, Ole Miss
R5 (173): DI Tedarrell Slaton, Florida
R5 (178): CB Shemar Jean-Charles, App State
R6 (214): T Cole Van Lanen, Wisconsin
R6 (220): LB Isaiah McDuffie, Boston College
R7 (256): RB Kylin Hill, Mississippi State
So…Aaron Rodgers has demanded a trade.  And I still have no idea what the Packers are doing.  If we look back at my 2020 NFL Draft recap you'll see that I in some way predicted Aaron Rodgers demanding a trade over Jordan Love.  So what do the Packers do after he's demanded a trade?  They don't do anything to help him.  At #29 they were looking at Elijah Moore, Terrace Marshall, Rondale Moore, and Dyami Brown.  They took Eric Stokes, who had a Late 2nd Round grade for me.  He's fast and long, but technique-wise needs a lot of work.  Plus Creed Humphrey was available at #62 and you pass only to watch KC take him one pick later?  You deserve everything that comes next Green Bay.
Dallas Cowboys (Need CB, OL, LB)
R1 (12): LB Micah Parsons, Penn State
R2 (44): CB Kelvin Joseph, Kentucky
R3 (75): DT Osa Odighizuwa, UCLA
R3 (84): EDGE Chauncey Golston, Iowa
R3 (99): CB Nahshon Wright, Oregon State
R4 (115): LB Jabrill Cox, LSU
R4 (138): OT Josh Ball, Marshall
R5 (179): WR Simi Fehoko, Stanford
R6 (192): DT Quinton Bohanna, Kentucky
R6 (227): CB Israel Mukuamu, South Carolina
R7 (238): OG Matt Farniok, Nebraska
On pure talent alone, this is a solid draft, but here's the thing.  Talent alone doesn't win you games, it's character that goes with it as well.  That's where the problem with this Draft lies.  Micah Parsons is otherworldly talented but there are legitimate character concerns and it's been revealed the Cowboys never met with him once.  After they get Kelvin Joseph, who is a 1st Round talent but looks to be more invested in his Rap career than his football career.  But that ain't the worst…Josh Ball who has major accusations of domestic violence in his past.  Sure the Cowboys have never been worried about character, but this is their problem.  Get guys that are invested in the game, not themselves.
Pittsburgh Steelers (Need OL, RB, DB)
R1 (24): RB Najee Harris, Alabama
R2 (55): TE Pat Friermuth, Penn State
R3 (87): C Kendrick Green, Illinois
R4 (128): OT Dan Moore Jr., Texas A&M
R4 (140): LB Buddy Johnson, Texas A&M
R5 (156): DI Isaiahh Loudermilk, Wisconsin
R6 (216): EDGE Quincy Roche, Miami (FL)
R7 (245): S Tre Norwood, Oklahoma
R7 (254): P Pressley Harvin III, Georgia Tech
The entire AFC North is getting better and the Steelers have weapons for Big Ben to win right now.  They've lost numerous pieces on the line and what do they do?  They ignore it with their first two picks adding more weapons.  Who is going to block them?  Sure they added Kendrick Green at a value in the 3rd Round who will replace Maurkice Pouncey, but with pass rushers all over the place in the AFC North, who is protecting the blind side of Ben?  There were plenty of Tackle options to fill that role and get equally talented RBs later.  The Steelers took a step back, while the entire division took a step forward.
Dishonorable Mention: Houston Texans, Tennessee Titans, Los Angeles Rams
Top 5 Players for 2021
QB Sam Howell, North Carolina
If the draft were today, Sam Howell is QB1.  He has the arm talent, the accuracy, and has elevated North Carolina on his big-play ability with his arm.  The debate all season will be Howell or Rattler?
EDGE Kayvon Thibodeaux, Oregon
While there's a debate about who QB1 is, the question of the #1 player on the board is no question.  Thibodeaux has been compared to Myles Garrett since being the #1 recruit out of High School.  He's not disappointed in college.  He's got the size, explosiveness, and pure playmaking ability to dominate the edge.
CB Derek Stingley Jr., LSU
He's a near-perfect CB prospect.  He's long, uber-athletic, and a sticky defender.  He's extremely smart and has been highly productive at LSU.  His only knock is he's slightly grabby with receivers.  Other than that he's the best CB prospect to come out in some time and the best CB prospect from LSU since Patrick Peterson.
OT Evan Neal, Alabama
A mammoth of a specimen, standing at 6'7'' weighing 360lbs., who has been the reliable RT at Alabama. He is powerful and can bully anyone at the line with his size and length. The concern is controlling his weight at 360lbs and making sure he doesn't gain too much weight and lose the mobility he has.
QB Spencer Rattler, Oklahoma
The presumptive #1 pick in the 2022 NFL Draft.  On pure talent alone, Rattler is that but he struggled his first year as a starter at Oklahoma.  He has to take the next step if he's going to silence the doubters he has, including me.
Once again nobody knows how these drafts will pan out over the next few years. For all we know, Davis Mills turns into a better QB than Trevor Lawrence and the Packers could've had the best draft out of anyone. While we don't know, it's fun to recap what went down and react with our opinions. To the city of Cleveland, what an outstanding job hosting the NFL Draft this year and hopefully Cleveland or Canton will get a shot to host one again in the near future without any limitations. That wraps up another season of NFL Draft coverage here, I want to thank everyone here at The Dawgland for this season and we're already preparing for the 2022 NFL Draft coverage starting this college season.