The finish line is within sight, we're finally in the final weeks of the NFL Draft process and things have been heating up all over the draft board. A once quiet QB market is now becoming red hot with teams like the Saints and Panthers scrambling and competing over positioning to get their guy. Major trades have gone down with the Eagles and Saints, giving the Eagles future draft capital in 2023 and the Saints a second first-round pick. Add to that the meteoric rise of Travon Walker who has suddenly thrust himself into the discussion with the #1 overall pick.
This Mock Draft due to the Eagles/Saints trade almost never happened as Mock 3.0 was completed before the trade occurred. But after careful adjustments to the picks, we have finally completed Mock 3.0.
If you haven't read our first two Mock Drafts, please read so here:
Mock 1.0- http://thedawgland.com/2022/02/2022-nfl-mock-draft-1-0-clouded-at-the-top/
Mock 2.0- http://thedawgland.com/2022/03/2022-mock-draft-2-0-so-much-chaos/
Mock Draft 3.0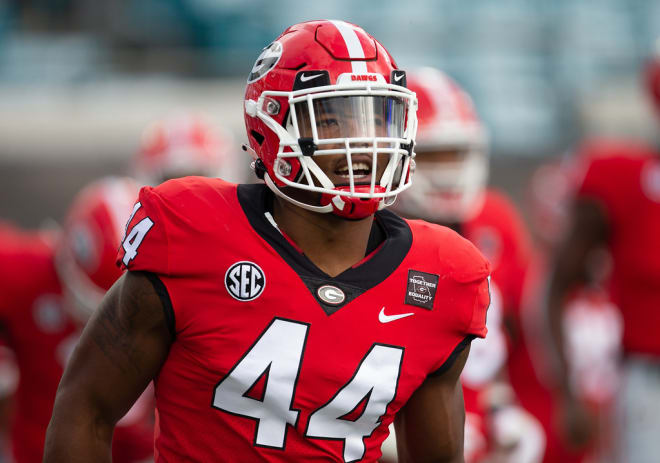 Jacksonville Jaguars- EDGE Travon Walker Georgia- Trent…Freakin…Baalke. If there is one guy who is going to overthrow the entire first round of the draft, it's him and recent reports suggest he's going to do that by passing on Aidan Hutchinson, Kayvon Thibodeaux and all the Top OTs on the board for Travon Walker. Don't get me wrong, Walker is a great prospect who has elite athleticism. But I think the difference between him and the other top EDGE players is the talent surrounding Walker. While you can argue Hutchinson had David Ojabo opposite him, Walker had a nasty interior and great LBs behind him. On paper looking at his athletic scores, yes he's worthy of the #1 pick. But, I question Baalke if he passes on all the other top prospects for Walker. Thing is, it's so Trent Baalke, it has to happen
2. Detroit Lions- QB Malik Willis Liberty- Yes, Aidan Hutchinson, a hometown hero is on the board who fits Dan Campbell's personality perfectly. But here's the thing, you can find EDGE guys at 32, you can't find Malik Willis there. Malik Willis has done everything you could want from a QB in this process to warrant this rise to the top of the draft. He's wowed scouts around the league with his arm talent and even more so his personality on and off the field. He's the kind of guy you want leading your franchise. For the Lions, they offer a situation to sit and learn behind Jared Goff, but a situation that is crying for a leader in the locker room. Willis can be what the Lions have been looking for for a long time.
3. Houston Texans- EDGE Aidan Hutchinson Michigan– Houston at this point won't believe what is happening and either panic and miss on this point, or they don't overthink it. With Lovie Smith, he'll calm the room and make the right choice in Hutchinson. There's still a good chance Hutchinson goes #1 and is the odds on favorite according to Vegas. His motor and freakish athleticism is going to make him a coach's dream for whoever drafts him. For the Texans, it gives them their JJ Watt replacement going forward to build around and a guy who is going to be a leader on and off the field.
4. New York Jets- EDGE Kayvon Thibodeaux Oregon– With the run on EDGE, the Jets scramble to the podium to take the last of the top tier of EDGE rushers and possibly the best of the group in Thibodeaux. Thibodeaux has seen his stock slip from the clear-cut #1 pick, to falling out of the Top 10 to at least now stabilizing in the Top 5. Robert Saleh is a perfect coach to push him to keep him playing hard every down and will know how to deal with a pass rusher of his talents working with Nick Bosa in San Francisco. On pure talent alone, Thibodeaux is the best player EDGE rusher in the draft, but the questions on motor have clearly hurt him, but in this scenario, the scramble to draft EDGE rushers will save his stock.
5. New York Giants- OT Charles Cross Mississippi State– I love to mock trades but I rarely mock a surprise pick. It's clear the Giants are looking at OT with one of their top picks, but they select the one some say is the 3rd best of the group. Don't get it mistaken, Cross is a great prospect who can play all over the line. Reports have said the Giants have spent more time than anyone with Cross so there's more than likely truth to the thought the Giants want Cross. The question becomes at this point how would other teams react to him being drafted first?
6. Carolina Panthers- OT Evan Neal Alabama– While Kenny Pickett is on the board and there's legitimate pressure to get a QB that can lead the Panthers, that still doesn't solve their atrocious O-Line. If Evan Neal makes it here, the Panthers pounce on him. Neal would easily solve their problems at LT and be a guy that can protect the blindside of a Jimmy Garapolo, Baker Mayfield, or even Sam Darnold if they chose to run it back. The Panthers have the offensive weapons, but whoever their QB needs time to get it to those weapons. This pick helps solve the biggest problem in Carolina.
7. New York Giants (from Chicago)- EDGE Jermaine Johnson Florida State– After taking Charles Cross, the Giants look to add a guy who can create pressure off the edge. Johnson at this point is the best left of the second tier and still worthy of this pick. Johnson has had as strong of a draft process as anyone, rightfully earning the debate of being a Top 10 pick. He enters New York learning from one of the best Defensive minds in Wink Martindale who will know how to utilize him off the edge and create pressure while using some of the Giants' great interior defenders to take the pressure off of him.
8. Pittsburgh Steelers (from Atlanta)- TRADE: Pittsburgh acquires the #8 overall pick from Atlanta in exchange for the #20 overall pick, a 2023 1st Round pick, and a 2023 3rd Round pick- QB Kenny Pickett Pittsburgh– The Steelers have to jump the Seahawks in order to get their QB and they pay a hefty price to a team in Atlanta that will be eyeing the 2023 Draft. For that, the Steelers give their 1st next year to keep up in the AFC North arms race. They end up getting the local kid Kenny Pickett to lead his team. Pickett has the athleticism and poise to be successful, but he is inconsistent, doesn't handle pressure well, and fumbles the ball a lot. Pittsburgh has Mitch Trubisky to hold the fort to start so there's no pressure, but Pickett will be asked to lead sooner rather than later and the question is if he'll be ready.
9. Seattle Seahawks (from Denver)- OT Ickey Ekonwu NC State– After the Steelers jump the Seahawks from getting a top QB, the Seahawks I would suspect turn their attention to a Baker Mayfield and building a competent O-Line to help whoever their QB is. At this point, Ekonwu has only slid because of teams' preferences for OT. I firmly believe that Ekonwu is probably going to be the best LT to come from this draft. He adds what the Seahawks have lacked in the passing game in terms of blocking in a division with a ton of great pass rushers. While it may not be the popular thing that Seattle moved on from Russell Wilson, if Ekonwu lives up to his talent and Baker can rebound from his injury-plagued 2021, the Seahawks have the talent offensively to be competitive.
10. New York Jets (from Seattle)- CB Ahmad Gardner Cincinnati– After swiping up Kayvon Thibodeaux, the Jets go all-in on building up a defense for Robert Saleh. There's been a lot of buzz surrounding Gardner and the Jets and it would make a ton of sense. The Jets really haven't had a lockdown corner since Darrelle Revis. Gardner has set himself apart from the rest of this CB class, being a standout from the Senior Bowl to now. His personality and game tape show the potential of a lockdown corner and locker room leader. For Robert Saleh, there are shades of Richard Sherman in him and that's something worth building around.
11. Washington Commanders- WR Garrett Wilson Ohio State– The Commanders have already one great OSU WR in Terry McLaurin, so why not grab another Buckeye? The Commanders paid a hefty price for Carson Wentz and for him to succeed, they need to get him weapons. Wilson gives the Commanders a second home run threat WR that will give defenses headaches. Antonio Gibson, McLaurin, and Wilson would create a true Offensive trio to build around after years of trying to get those weapons. This puts Carson Wentz in a put-up or shut-up scenario in his career. If he can't do it, Washington will do whatever it takes to get the right QB to use these weapons in the future.
12. Minnesota Vikings- S Kyle Hamilton Notre Dame– At this point, Kwesi is going to hand in his card in record time as he's not going to pass on the best player available. Sure the Vikings have Harrison Smith, but he's in his mid-30s at this point and the opportunity to pass the torch to a fellow Fighting Irishman might be a perfect fit. With Smith, the Vikings can use Hamilton however they want to start while having a mentor in Smith. For the Vikings, while they still need to get past the Packers and could improve their O-Line, the Vikings steal the best player on the board here.
13. Houston Texans (from Cleveland)- CB Derek Stingley LSU– After selecting Aidan Hutchinson to be the young leader of their Defense and pass rush, the Texans double down and get possibly the most talented CB in the draft. Unfortunately, Stingley has been recovering from a Lisfranc injury and we haven't seen him through the draft process. The injury itself will scare teams, but the upside is one of a shutdown CB. For the Texans in a Rebuilding scenario, they need to assemble the best talent going forward. To walk out with Aidan Hutchinson and Derek Stingley, their defense has a bright future ahead of it.
14. Baltimore Ravens- CB Andrew Booth Jr. Clemson– For the Ravens, it's a debate between Jordan Davis or secondary. Davis makes a ton of sense, but the signing of Michael Pierce relieves the pressure to draft a DT early. Instead, the Ravens focus on bolstering a secondary that was ravaged by injuries. Booth gives the Ravens a physical CB who is outstanding in the locker room as a leader at Clemson. With his size, athleticism, and football IQ, he'll enter the league as a starting CB and someone who can make an immediate impact for a team that needs CB depth.
15. Buffalo Bills (from Philadelphia via Miami)- TRADE: Buffalo acquires the #15 overall pick from Philadelphia in exchange for the #25 overall pick, a 2022 3rd Round pick and a 2023 3rd Round pick- DT Jordan Davis Georgia– Even after their blockbuster trade with the Saints, depending on how the board is here, I still expect the Eagles to be active in trading down. The Bills need an interior force defensively wisely move ahead of the Chargers to get Davis. After signing Von Miller, the Bills found their pass rusher, not solidifying the interior defense might give the Bills one of the best defenses in Football. The bigger thing is this pairs Jordan Davis with Ed Oliver, creating one of the most explosive interior duos in the league. This is a Super Bowl move for the Bills.
16. New Orleans Saints (from Philadelphia via Indianapolis)- OT Trevor Penning Northern Iowa– The Saints after losing Terron Armstead have a major hole at LT. At this point, the Saints would be elated to run to the podium to get a replacement. Penning athletically has graded as well as anyone, much like Armstead once did. The question truly revolves around the idea that the Saints are going to target a top QB. It may not matter if there's nobody to protect the blindside. For the Saints, it's worth betting that Penning turns out the same as Armstead because the talent is there for Penning. The question is, do they take a QB with their 2nd pick?
17. Los Angeles Chargers- DT Devonte Wyatt Georgia– With Jordan Davis and Trevor Penning off the board, this pick becomes murkier. The reality is the Chargers could use an interior presence on defense. Wyatt has tested as well as any DT in recent history and for that has flown up the draft boards. Wyatt is explosive off the snap and plays with a great motor and instincts. What Wyatt offers to the Chargers would be a big, physical presence that will help in the run game and with his athleticism has the upside to be a solid pass rusher, especially when he has Khalil Mack and Joey Bosa taking pressure off of him.
18. Philadelphia Eagles (from New Orleans)- CB Trent McDuffie Washington– The Eagles are going to need to shore up their defense after trading down with Buffalo and snag possibly the most versatile CB prospect in the group. McDuffie is an aggressive corner who has the size and athleticism to hold up with the best WRs. He excels in Zone coverage and tackles well for his position, which leads some to believe he's best off as a Safety. In today's NFL, versatility is the best trait. The Eagles could snag a great CB prospect here, but worst case gives themselves an intriguing DB prospect they can build around.
19. New Orleans Saints (from Philadelphia)- QB Desmond Ridder Cincinnati– The Saints may try to package their picks and move up for a QB, but at this point, they'll settle on a QB here and hope to develop him. Ridder has impressed with his athletic ability throughout the process, but it's clear that he needs time to develop as a passer. His accuracy is an issue, but his greatest strength is his leadership. He'll understand his role backing up Jameis Winston, letting himself develop before he's given the keys to the Offense.
20. Atlanta Falcons (from Pittsburgh)- WR Drake London USC– After stocking up for the 2023 Draft, the Falcons end up in a situation to grab a WR for the future in London. It was clear the Falcons were moving on from Calvin Ridley before his gambling controversy and should continue to proceed in that way. Add to that Russell Gage went south to Tampa Bay, the Falcons desperately need WR help. Drake London is a big, physical WR who for lack of a better word is deceptively fast. He's a better route runner than people think and the upside is like Brandon Marshall. Marcus Mariota will need weapons to succeed and worst case, the Falcons will need them for the next QB.
21. New England Patriots- WR Jameson Williams Alabama– There are a ton of reasons why the Patriots will go Defense here, but if Jameson Williams is on the board, Bill Belichick knows the weapon he'll have. Williams would offer a deep threat that the Patriots haven't had in years and would open things up for Mac Jones. Williams gives the Patriots a true WR1 going forward that they lack and allows them to focus on the defense for the rest of the draft.
22. Green Bay Packers (from Las Vegas)- WR Chris Olave Ohio State– Do I honestly have to explain this pick? After trading Davante Adams to Vegas, getting Olave would be a dream for Aaron Rodgers. One of the best route runners in the last few years with big-play explosiveness, one could argue with Rodgers throwing the ball to him, Olave could quickly become one of the most productive WRs in the NFL as a rookie. The NFC North trembles in fear with this pick.
23. Arizona Cardinals- EDGE George Karlaftis Purdue– The Cardinals after losing Chandler Jones will need to get a new pass-rushing partner for JJ Watt. After his productive Pro Day at Purdue, the Cardinals would scramble to get Karlaftis. Karlaftis showed better athleticism than expected and his Football IQ makes him a strong, well-rounded prospect. The Cardinals have to figure out how to improve their Defense after their second-half collapse if they're going to avoid a total restructure of the Front Office and Coaching Staff.
24. Dallas Cowboys- EDGE David Ojabo Michigan– The Cowboys are a team that isn't afraid to take risks. David Ojabo sadly tore his Achilles at his Pro Day and now is facing a potential redshirt rookie season. The Cowboys at the very least have multiple options at the EDGE position including DeMarcus Lawrence that will allow Ojabo to take his time to recover. While obviously a torn Achilles still can be a questionable injury to recover from, the upside of this pick is too much to pass on. In the time it could give the standout Wolverine to recover and develop from his injury.
25. Philadelphia Eagles (from Buffalo)- WR Treylon Burks Arkansas– After trading down with Buffalo and snagging Trent McDuffie, the Eagles get their WR1 in the big, physical Treylon Burks. For the Eagles, Burks gives Jalen Hurts a target that he's been lacking on the outside that can make the big play but also can be used in different ways to get the pressure off of Hurts. Worst case for the Eagles, it gives them a WR1 for whatever QB they target over the next year to replace Hurts if he cannot step up his game this year.
26. Tennessee Titans- LB Nakobe Dean Georgia– The Titans could very well look at one of the WRs in this draft, but Nabobe Dean fills a need at LB for the Titans and while it's not the most important position, the Titans do need a leader at the LB position that can contribute in the run game. It comes down to honestly if the Titans prefer Devin Lloyd or Dean. I think Dean's explosiveness off the snap is going to be a selling point for Mike Vrabel.
27. Tampa Bay Buccaneers- OG Zion Johnson Boston College– This pick doesn't need a ton of explanation. The Bucs need an Ali Market replacement, Johnson's talent and work ethic are going to play great with Tom Brady right away as they fight for one more run at a Super Bowl.
28. Green Bay Packers- WR Jahan Dotson Penn State– The Packers after selecting an explosive route runner in Chris Olave end up selecting a second similar WR in Dotson. What Aaron Rodgers needs is WRs who can create separation as Davante Adams could. Adding Dotson and Olave would give the Packers two capable receivers who can line up anywhere on the offense. It gives them a multitude of options on how to run their offense and set Aaron Rodgers up for success.
29. Kansas City Chiefs (from Miami via San Francisco)- S Daxton Hill Michigan– With the top EDGE rushers gone, the Chiefs could opt to wait til fill the void and focus on other priority positions. With the loss of Tyronn Mathieu, there's a major void in the secondary. Enter Daxton Hill who in my opinion for his versatility is a borderline Top 20 prospect. He can play Safety and Nickel and his athleticism and experience say he could play some corner if asked. He enters a great situation here with great coaching that could help him live up to his potential and fill the void lost in Mathieu.
30. Kansas City Chiefs- WR Christian Watson North Dakota State– Like I said in Mock 2.0, this is a perfect fit. Now that Tyreek Hill has been moved, the Chiefs need to find a replacement, and why not a taller version of Hill? We mocked Watson here in Mock 2.0, so no need to explain it again here, it's just a perfect fit.
31. Cincinnati Bengals- C Tyler Linderbaum Iowa– The Bengals just need to continue upgrading their O-Line while the rest of the AFC North is in an arms race. Linderbaum adds a physically imposing presence to the interior that will only open up the run game more for Joe Burrow and keep teams off balance with their array of weapons on offense. While they still need an LT, there isn't one at this point to take, but the Bengals should be aggressive in the 2nd Round to assure themselves a prospect they like in this scenario.
32. Detroit Lions (from LA Rams)- EDGE Boye Mafe Minnesota– Remember when I said it might be better to wait on the pass rusher? The Lions' gamble pays off with Boye Mafe sliding to 32 and the Lions get their pass rusher. Mafe has done everything needed to be a 1st Round player now. The Lions with their 2 1st Round picks now add a QB of the future and an explosive, talented pass rusher they've lacked for years. Now it's time for Dan Campbell to start to put the pieces together in the Motor City to make the Lions a well-oiled machine.
BONUS: Ideal Browns 7 Round Draft
2nd Round (#44 Overall)- WR George Pickens Georgia
3rd Round (#78 Overall)- EDGE Josh Pascal Kentucky
3rd Round (#99 Overall)- S Nick Cross Maryland
4th Round (#118 Overall)- T Luke Goedeke Central Michigan
6th Round (#202 Overall)- RB Zonovan Knight NC State
7th Round (#223 Overall)- DT Chris Hinton Jr. Michigan
7th Round (#246 Overall)- TE Cameron Latu Alabama
The NFL Draft is just over a week away and the uncertainty at the top of this draft only adds intrigue as we get closer to Draft day. Add to that the potential of multiple major trades for several positions with teams jockeying to get talent, this could end up being one of the wildest NFL Drafts in recent memory. The stretch to the finish is on. Buckle up guys, with WRs available for trade, a scramble for the top WRs in the class, and QBs being chased after finally, the Draft is about to get crazy.